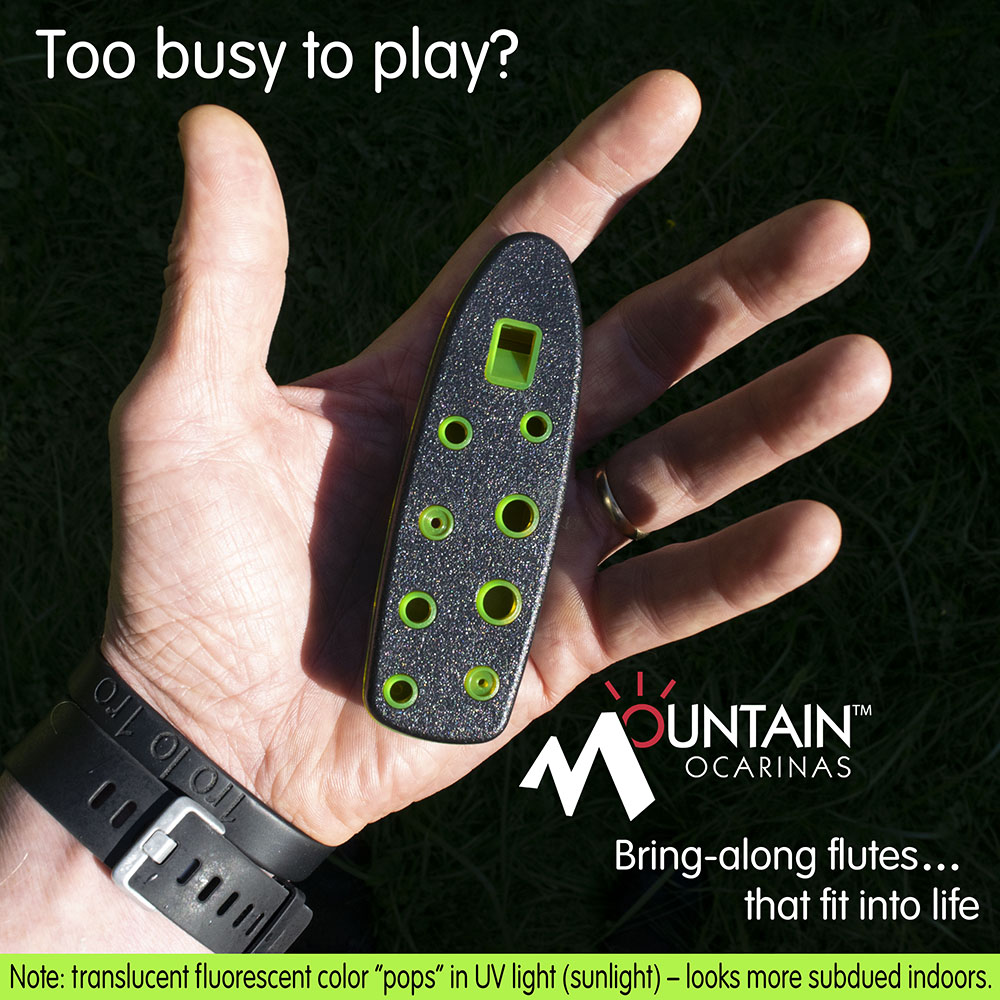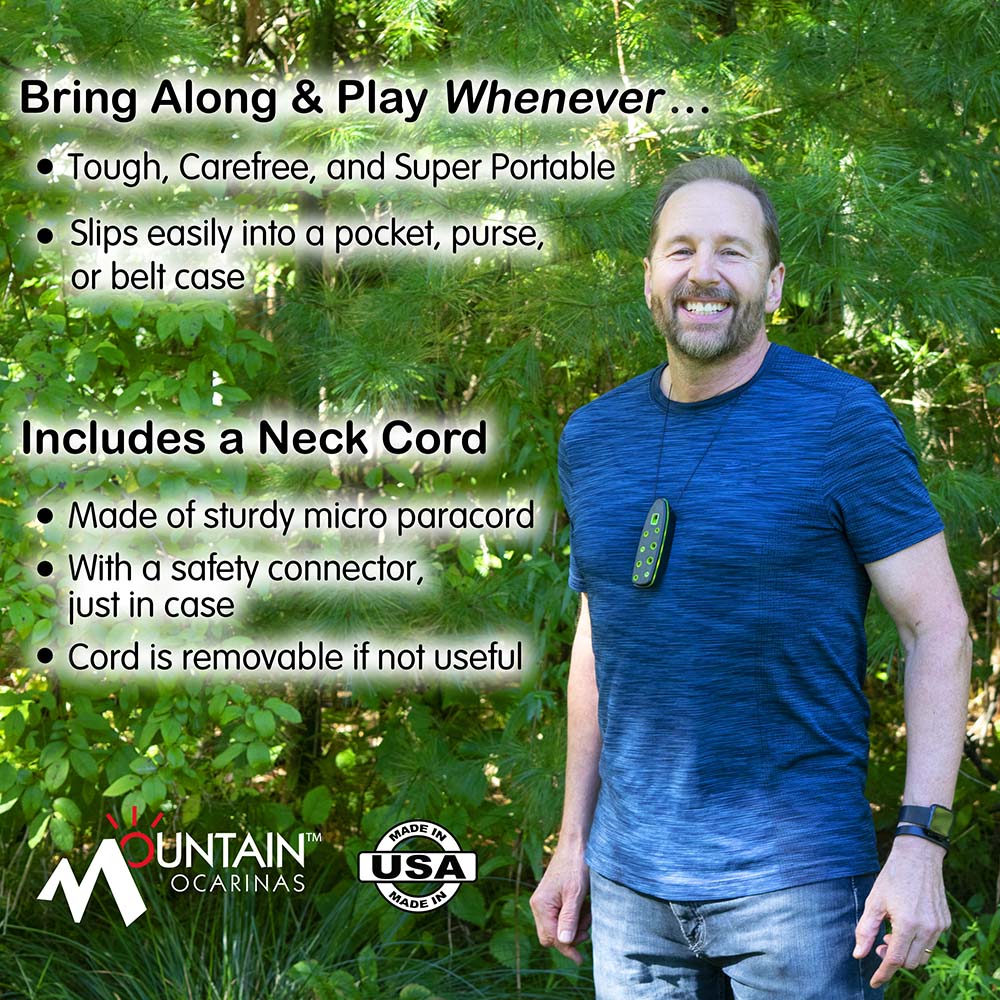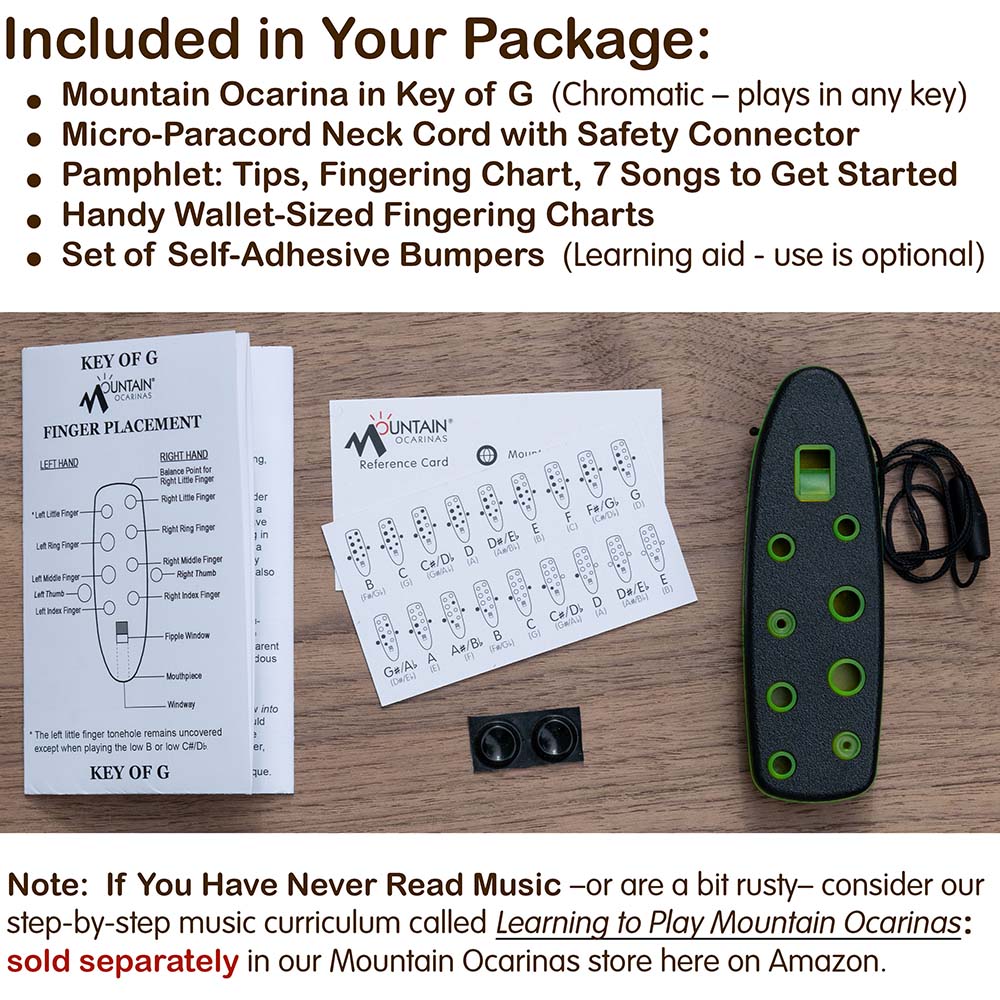 Mountain Ocarinas Specifications
Bring along and play whenever
Intuitive Fingering Pattern ver2
Mountain Ocarina in Key of G – Super Pocket-Sized, Carefree & Durable Enough to Take Anywhere. Made in USA. Only 4.5" Long. Easy to Learn
Tiny, tough, & light, so you can bring it along. Wear it around your neck, or slip it in your pocket. Make music anywhere – whenever you have a spare moment. (Can't read music? Our step-by-step music curriculum is sold separately.)

Range is an octave and a 1/3 – enough range for most folk songs & hymns. Fully chromatic, so it plays all sharps & flats without half-covering toneholes. Intuitive fingering pattern. Easy to get started, relative to most instruments

In the Key of G – a great folk key. Note: Like many band instruments (trumpets, saxes, clarinets…), this ocarina is taught as a transposing instrument in C in order to simplify learning & make it easier to find lots of sheet music to play

Color is black with translucent fluorescent golden-green highlights. Highlights vary from bright to subdued, depending on exposure to UV light (such as sunlight). Also includes sturdy neck cord with safety connector

Made with care in the USA by a small family-owned business. A quality acoustic instrument (NOT electronic) capable of great beauty & expressiveness – with sufficient practice. Designed for adults, but apt for children over 6 with adequate adult guidance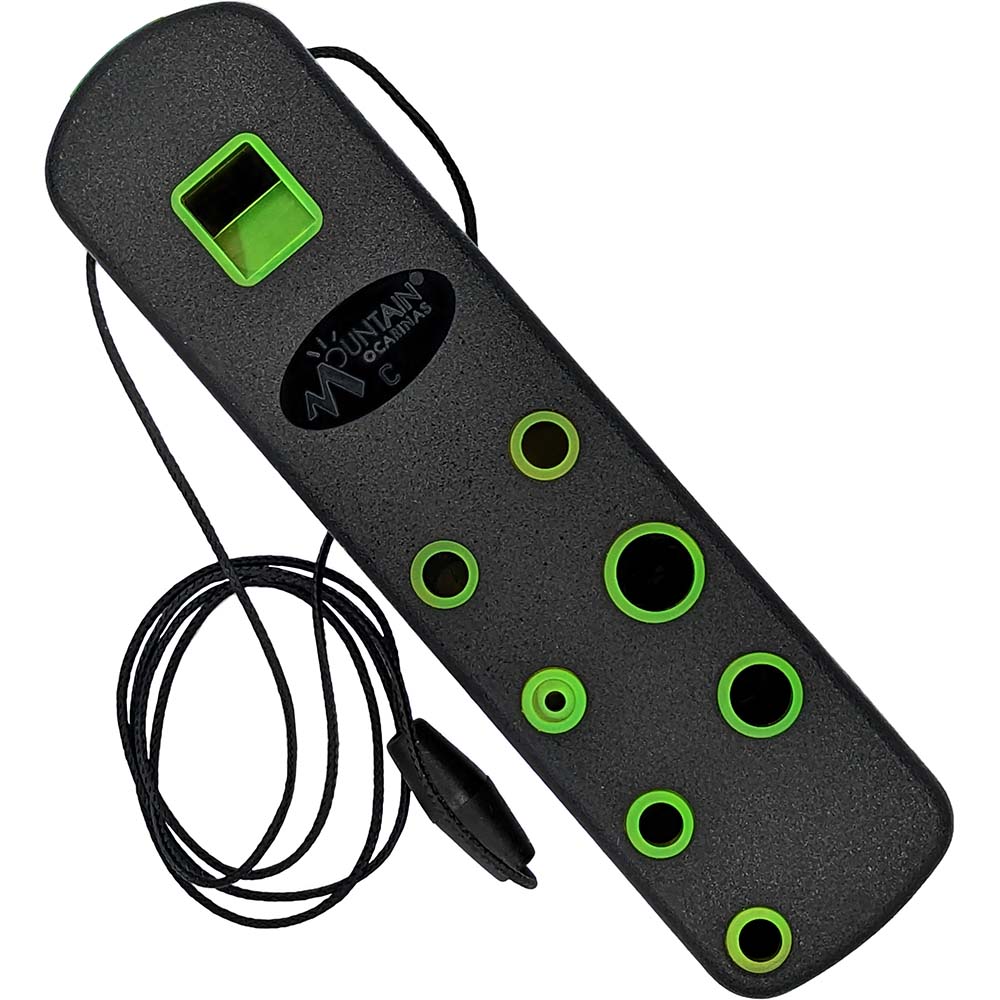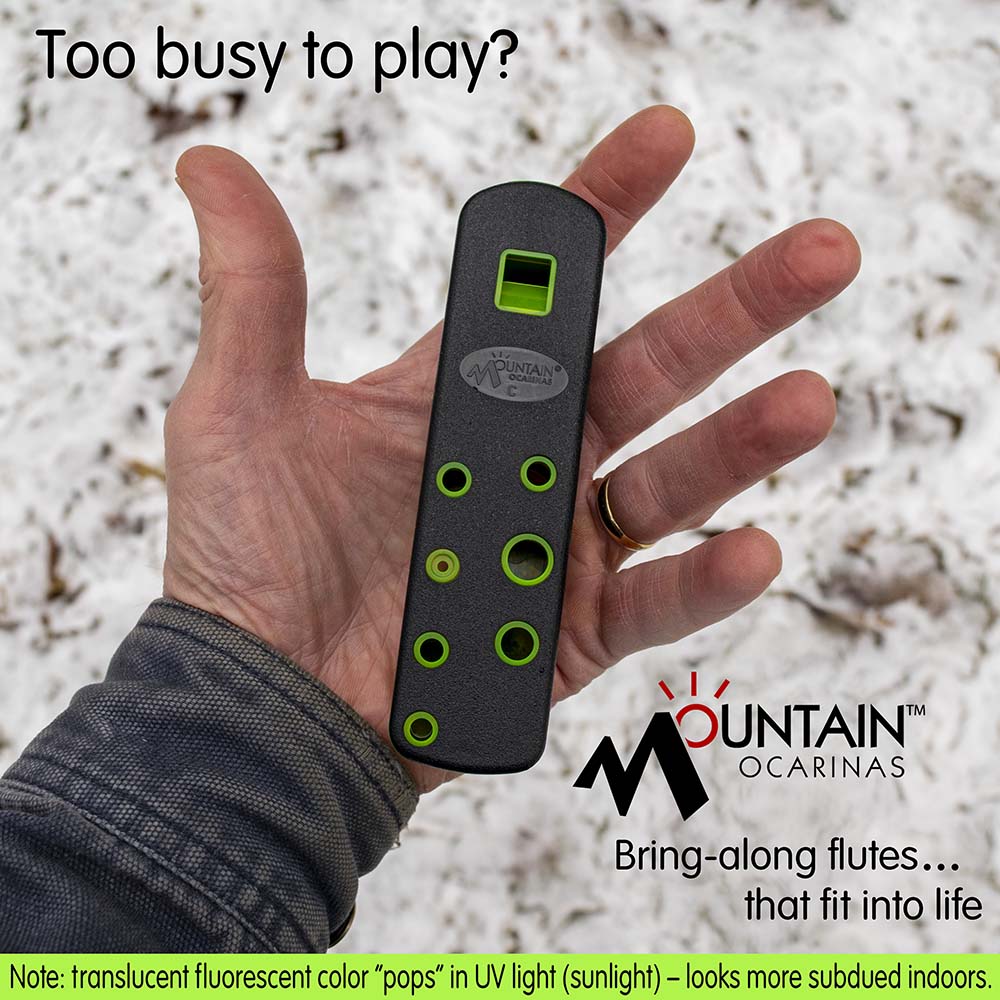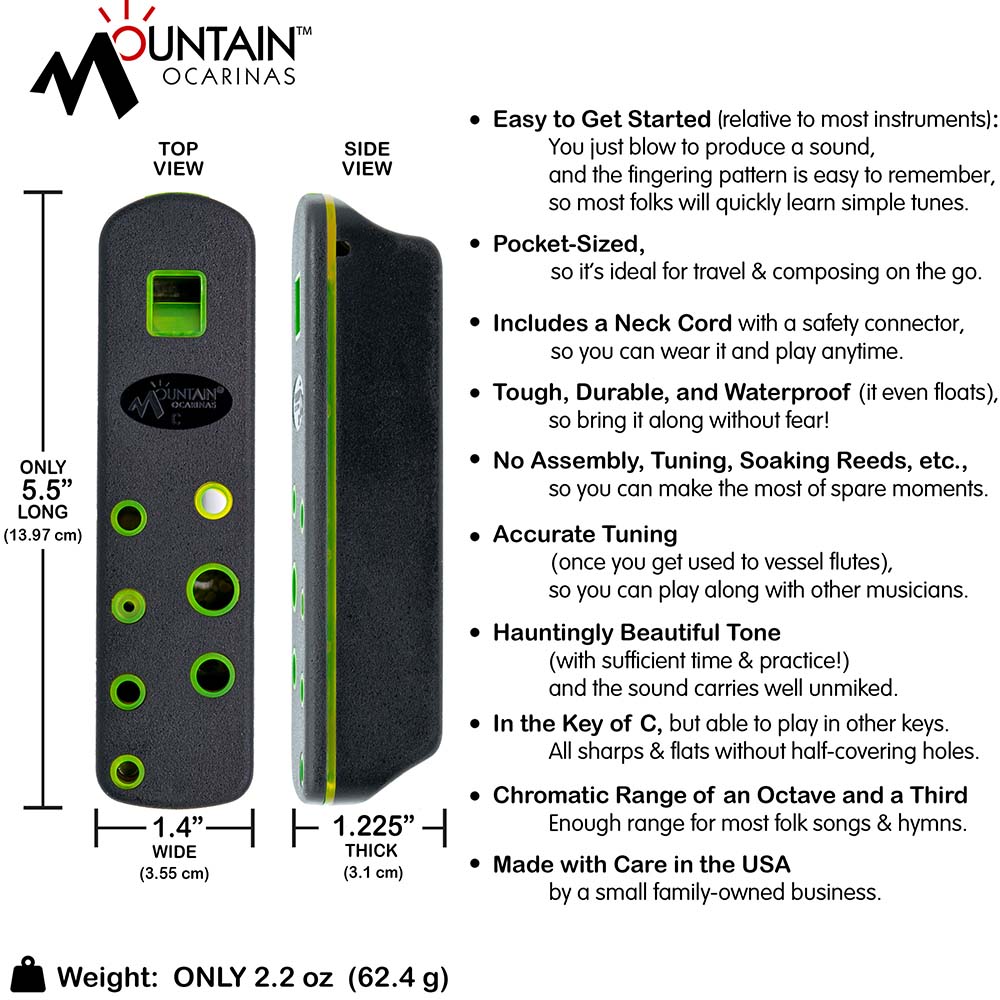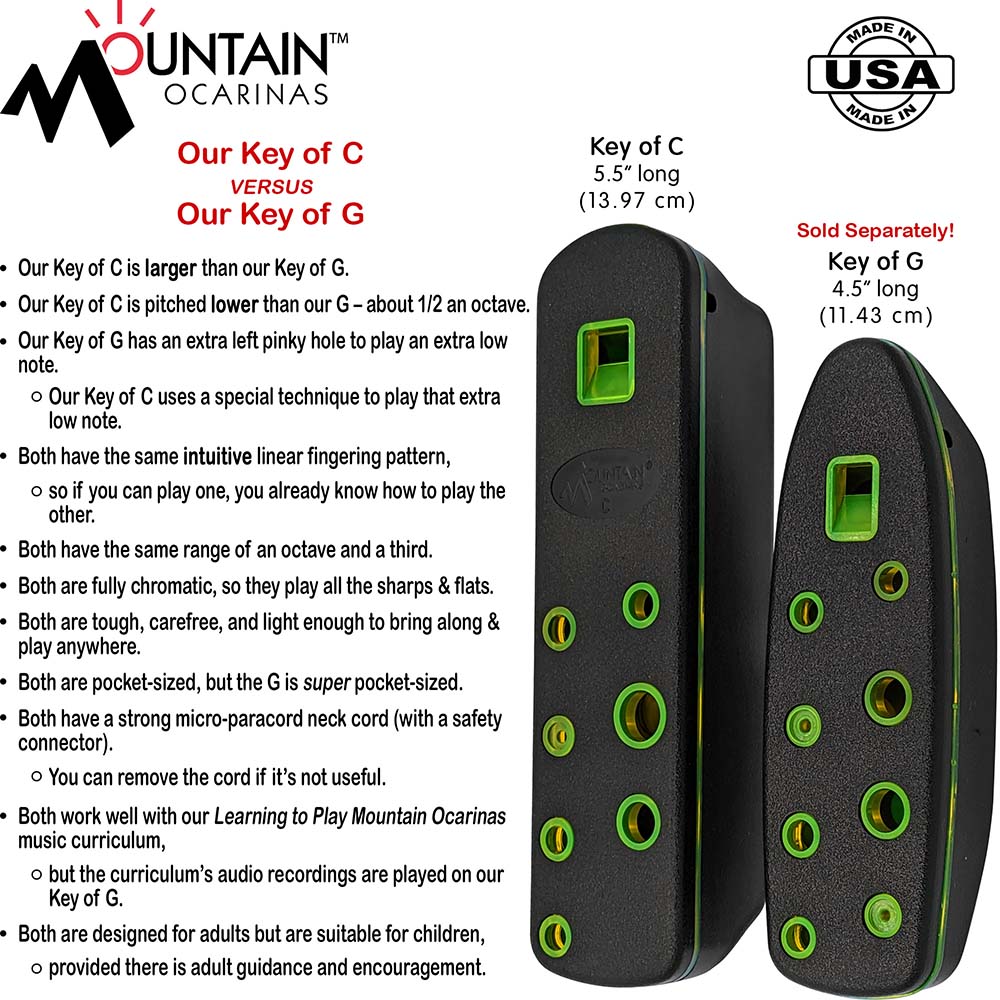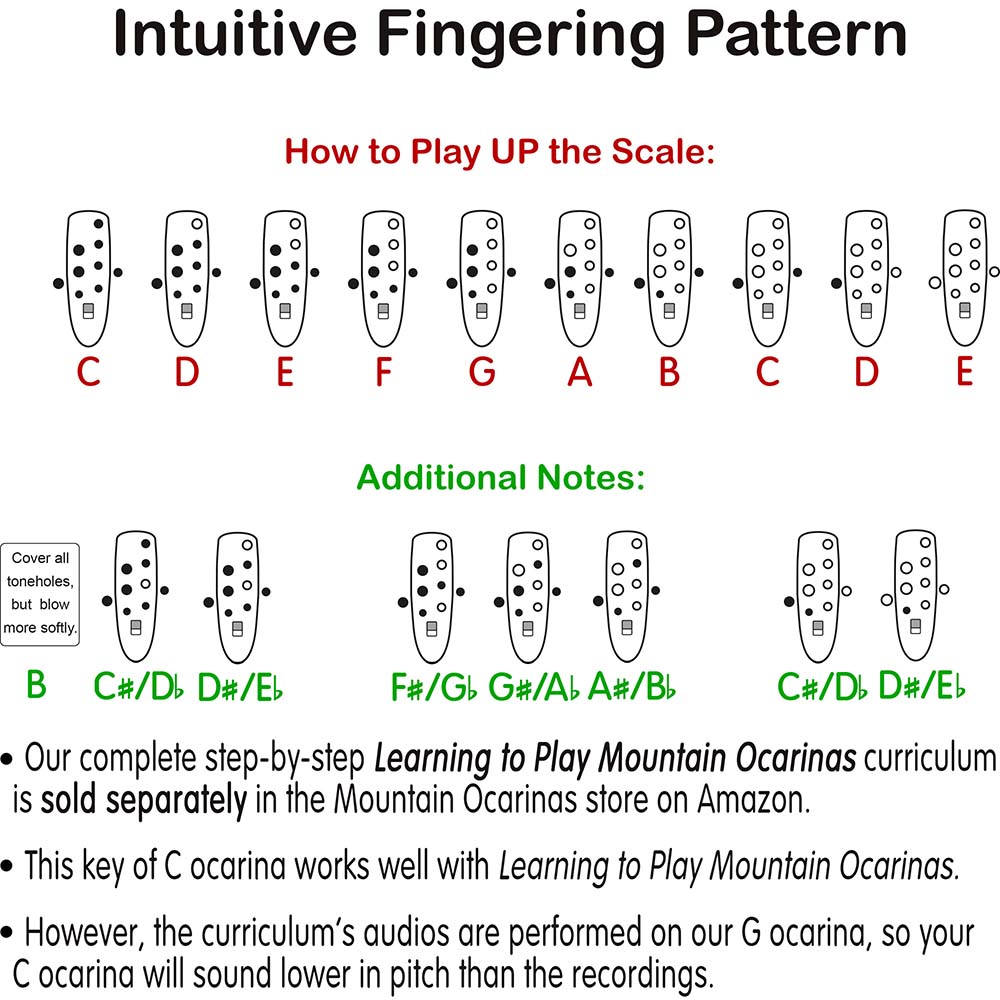 Too busy to play jpg - resized for website
Specifications ver 2 - resized for website
4. C MO - resized for website
Intuitive Fingering Pattern - resized for website
Mountain Ocarina in Key of C – Pocket-Sized, Carefree & Durable Enough to Take Anywhere. Made in USA. Only 5.5" Long. Easy to Learn. Lovely Tone.
Pocket-sized, tough, & light, so you can bring it along. Wear it around your neck, or slip it in your pocket. Make music anywhere – whenever you have a spare moment.

Tuned in Key of C but fully chromatic. Plays all sharps & flats, without half-covering toneholes. Range is an octave and a 1/3 – enough for most folk songs & hymns. Intuitive fingering pattern. Easy to get started, relative to most instruments.

Color is black with translucent fluorescent golden-green highlights. Highlights vary from bright to subdued, depending on exposure to UV light (such as sunlight). Also includes sturdy neck cord with safety connector.

Can't read music? Our step-by-step music curriculum (Learning to Play Mountain Ocarinas) is sold separately. But please note! This C ocarina sounds about ½ octave lower than the curriculum's companion recordings.

Made with care in the USA by a small family-owned business. A quality acoustic instrument (NOT electronic) capable of great beauty & expressiveness – with sufficient practice. Designed for adults, but apt for children over 8 with adequate adult guidance.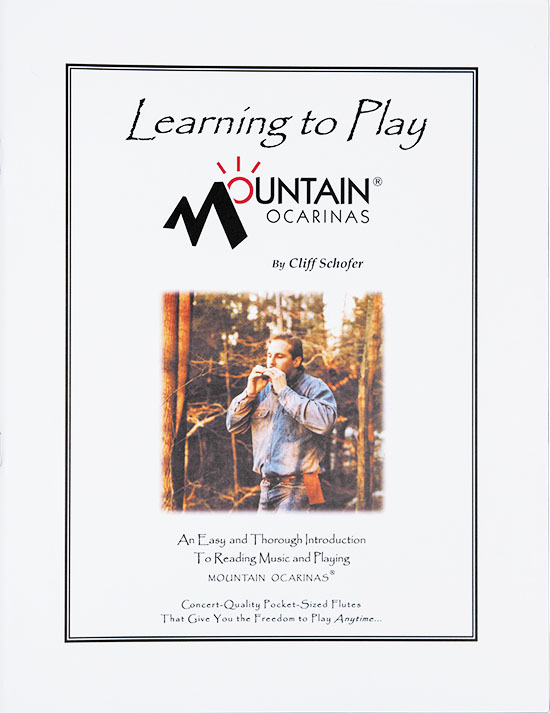 Self-Learning Music Curriculum
Price: $19.95
The Learning to Play Mountain Ocarinas music curriculum is a thorough introduction to reading music and playing Mountain Ocarinas.
Curriculum consists of a 48-page 24-unit book and extensive online audio teaching that guides you through the book. (The audio files –which replace the former CDs– can be accessed online or downloaded.)
Intended for adults with little or no musical background. Guides you step-by-step from sounding your first notes to where you are ready for books of folk songs, hymns, etc.
Also appropriate for many children 6 & older. However, they usually require adult guidance, encouragement, and structure. With this curriculum, a teaching adult can learn at the same time as the child. Works well in a homeschooling environment.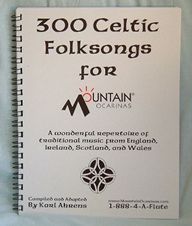 300 Celtic Folksongs for MOUNTAIN OCARINAS
Price: $19.95
A wonderful collection of traditional music from England, Ireland, Scotland, and Wales that sounds great on the ocarina.
This book is also very suitable for other folk instruments. (We specify for MOUNTAIN OCARINAS only because some ocarinas do not have enough range to play all the songs in this book.)
Full of haunting ancient airs and ballads as well as spirited faster tunes.
The easiest songs are noted so that learners can quickly find songs that they can play.
Enough material to keep you busy for a long, long time.
Wire binding, so the book stays open.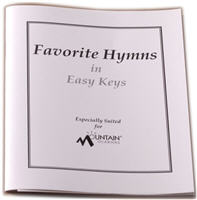 Favorite Hymns in Easy Keys
Price: $12.95
A book of 45 hymns with lyrics and chords in an easy to read format.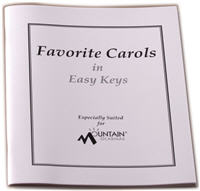 Favorite Carols in Easy Keys
Price: $12.95
Nineteen favorite Christmas carols in easy to read and play settings, with chords and lyrics.
Chords and music are written so that a G or a C ocarina can play along with other musicians without transposing.
Includes a tutorial on how to play your G ocarina with other musicians.